Government

Government
Finance
Finance & Administration
The City of Jamestown City Hall is located:
314 East Central Avenue
Jamestown, TN 38556
Office Hours are 7:30 am to 4:30 pm Monday –Friday
931-879-8815 Office
931-879-3543 Fax
We handle many aspects of the City's operation which includes:
City Clerk
Utility Department
City Records Keeping
Licensing and Permits
Municipal Court
City Financial Accounting
Our mission is to courteously provide our residents and businesses with accurate water, sewer and natural gas billing information through a knowledgeable and efficient staff. We strive to provide professional customer service at all times and to provide accurate and timely services to the citizens of Jamestown for billing questions, concerns, connects, disconnects and transfers.
Parks
Parks Department
We at the City of Jamestown are proud to offer our residents beautiful parks and amenities. Whether you are looking for a quiet walking trail, playgrounds for your children or a gathering place for special occasions such as birthdays, family reunions or office picnics. Click below to see all we have to offer.
Allen Peters
Parks Department
931-879-8815
Public Safety
Our mission, in order to protect, preserve, and maintain the dignity, peace, and tranquility of the City of Jamestown and its citizens, is to endeavor to always take the initiative and strive for excellence in crime preventive patrol and investigation.
Jamestown Police Department
222 South Main Street
Jamestown, TN 38556
931-879-5871
Website
Ken Hancock
Chief of Police

Roger Norris
Assistant Chief

Rob Lower
Detective

Jeff Hancock
Detective

Lance Stephens
Officer

Michael Reagon
Officer

Wes Bilbrey
Officer

Rockford Garrett
Officer

Micah Norman
K-9 Officer

Brandon Cooper
Part-Time Officer

Jimmy Markwood
Part-Time Officer

Derek Richards
Part-Time Officer
Utilities
Water
City of Jamestown Water Department
931-879-7560
Fentress County Utility District
931-397-8228
Allardt Water Works
931-879-7125
Electric
Volunteer Energy Cooperative
931-879-5853
Gas
City of Jamestown Gas Department
931-879-7560
Telephone
Verizon Wireless - Russell Cellular
931-879-1999
Television
Twin Lakes TV
931-879-5811
Comcast Cable
1-800-266-2278
Airport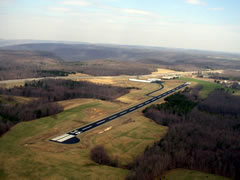 Open since July 17, 1967, and located only 12 miles from beautiful Pickett State Park on the Cumberland Plateau, the Jamestown Municipal Airport prides itself in providing aviation service with small-community charm and convenience to Fentress and surrounding counties.
Jamestown Municipal Airport features a 3,498-foot runway, which offers users the flexibility of chartering many different types of aircraft. While the runway is still too short for some of the largest types of aircraft, it allows pilots to safely fly a variety of luxury and performance jets, as well as turboprops. In addition, the airport offers fueling, flight school, aircraft rental, hangar rental and more.
The Jamestown Municipal Airport is making improvements and additions, such as:
New 10-unit T-hangar construction
Rehabilitation of the corporate hangar
Installation of Shell self-serve fuel system
| | |
| --- | --- |
| FAA Identifier: | 2A1 |
| Lat/Long: | 36-20-58.9350N / 084-56-47.9650W |
| Elevation: | 1693.8 ft. / 516.3 m (surveyed) |
| Variation: | 02W (1985) |
| From city: | 5 miles S of JAMESTOWN, TN |
| Time zone: | UTC -5 (UTC -6 during Standard Time) |
| Zip code: | 38556 |
| | |
| --- | --- |
| Airport use: | Open to the public |
| Sectional chart: | CINCINNATI |
| Control tower: | No |
| ARTCC: | INDIANAPOLIS CENTER |
| FSS: | NASHVILLE FLIGHT SERVICE STATION |
| NOTAMs facility: | BNA (NOTAM-D service available |
| Attendance: | MON-SAT 0800-1600, ALL SUN 1200-1600 |